Hey DUDE Shoes | Men's, Women's & Kid's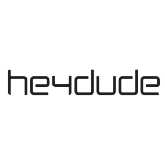 Hey Dudes shown on-line are stocked in our store. We do not drop-ship from the factory.
We stock a massive selection of styles and have thousands of pairs in-stock. Hey Dude shoes have exploded in popularity in recent years and we have expanded to support you. We have an extensive back stock in most styles. Long Creek Outfitters in Leon, Iowa is one of the largest stocked Hey Dude outlets in the country.
Men's | Women's | Kid's | Infants | Toddler Hey Dudes